It's Wednesday once again: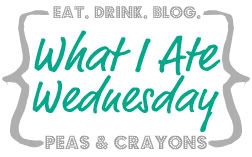 I have to tell you about this one thing that we (as in CK and I.. yay!!) made the other day!
No, it wasn't on Wednesday but nothing I've eaten today would be any good. Here's what I ate today just in case you are dying to know though:
Breakfast:
Nothing, slept through it.
Lunch: Homemade Mash potatoes
Snack: Cheese Quesadilla & White Mac Cliff bar
Dinner: Nothing, it's too late for that.
I had to work 4-10:30 tonight and it's just to late to eat anything when I have to be back at work at 7:45am. Booo!
However, look what I ate the other night for dinner!!!
Turkey bacon and cheese stuffed burgers:
CK stuffing away!
Beautiful
Oh Munster Cheese you taste and look so good.
Stuffed like a Christmas Turkey.
Oh, and now I want a stuffed burger at midnight. Damnit I will resisted and go to bed...
Eggs and toast in the morning!!
Goodnight loves, and remember click FOLLOW over on the left.